Where can you get the best Denon Heos Home Cinema Soundbar Price?
Welcome to this guide, which covers why everyone is buying the Denon Heos Soundbar (DHT-S716H) and where the best place to buy it is in Dec 2023!
Today's best prices on the Denon Home Cinema Soundbar
There's some pretty good deals out there today on Friday the 1st Dec 2023. Below you'll find the best places to buy your new soundbar in the UK. These prices are updated regularly. If you find a cheaper price, please let us know in the comments and we'll make sure it gets added.
Prices Last Updated Thursday 9th November 2023 - 20:11:33 pm
Getting to know Denon's Heos Home Cinema Soundbar
The Denon Home Cinema sound bar is a premium quality soundbar that either sits under your TV, or can be wall mounted. It replaces your TV's built in audio with a more powerful amplified sound and offer a proper home cinema sound without all the surround sound speakers. The bar has 4 channel Class D sound and dual drivers, along with two tweeters. It comes with a wireless subwoofer, with it's own amplifier, deliver the low end of the sound.
This soundbar can be used for TV or movies and aims to offer an easy way to get a good home cinema sound in your living room. As well as boosting your TV sound, you can also steam music wirelesssly from phones or tablets using the downloadable app for iOS, Android and Kindle.
Video of the HS2 Soundbar
As far as soundbars go, the HS2 is fairly easy on the eye. It has a fabric covering on the front, rather than an aluminium mesh. Sit back and take a chilled walk through what the bar looks like and what you can expect in this video:
What do we love about the Denon Heos Soundbar?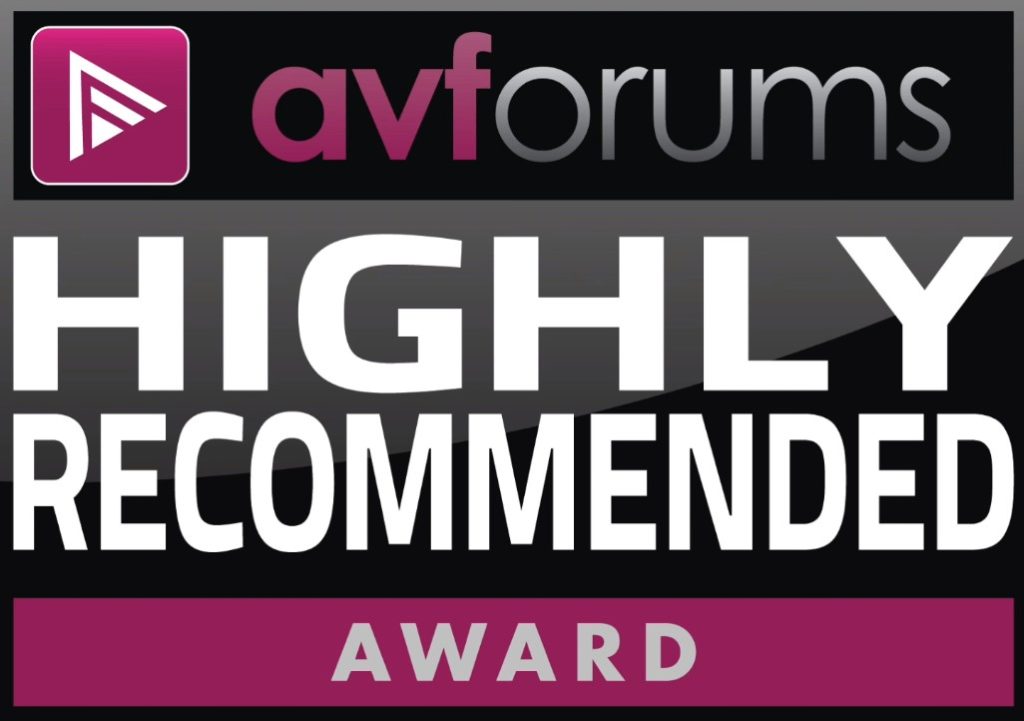 So what's so good about this soundbar, eh? It's certainly not the cheapest on the market so what makes this worth your hard-earned money?
The sound quality is excellent – As you'd expect from a Denon product, they have nailed the audio. The Heos Soundbar has a clean, precise sound. And the bass definitely benefits from having a separate sub-woofer.
Powerful enough for all sized rooms – With a lot of soundbars, we normally have to give a warning that it might not be suitable for medium or larger rooms but that's not necessary with this Home Cinema bar. It's got a commanding, rich sound and a very-well-done sound stage that will fill any sized room easily.
No power brick – A lot of soundbars don't tell you about this, but you open the box and there's another ugly power brick to contend with. The HS2 soundbar is, thankfully, brick free – making it an easy choice if your planning on wall mounting it.
HDMI ARC – A great invention that lets you have one single HDMI cable for in and out.
The wireless subwoofer really helps the bass – There's a lot of good soundbars in this price range (and higher) that do a good job without a subwoofer, but they're the exception. It's hard to get that earth moving bass that you want without having a subwoofer. The fact it's included here, works wirelessly and sounds fantastic is something to celebrate.
Getting connected to the Heos Cinema Soundbar
There's a a number of ways to send sound to the Heos bar. Here's a list of physical connections on the rear:
HDMI ARC in
Optical In
Infra-red out
Network port
Coaxial
Aux in
This soundbar is also designed with Denon's HEOS multiroom technology. If you're planning to setup multiroom audio, this is a good soundbar to go for. Of course, that side of things is completely optional but the tech is there if you need it.
As well as this, the HomeCinema bar will connect to your WiFi network. From there, anyone in the house can use a whole range of streaming services (as well as their own media libraries).
What's not so good about the Heos Bar?
So is this the perfect soundbar? Of course not! This is an outstanding soundbar but there are a few things to be aware of.
There's no remote – This is an interesting one! There's no remote control available for this Soundbar – an intentional decision that requires users to connect their phone and use the free app instead. (Although there are ways to get your TV or Sky remote, for example, to control it). You'll have to weigh up if this is a deal-breaker, or if you love the idea.
Un-boxing the Denon Heos HomeCinema Soundbar
Here's exactly what you'll get in the box if you go for the Heos Soundbar.
Hoes Soundbar – some FAQs
How do you mount it on the wall?
Like a lot of modern soundbars, the Heos one can be mounted on any wall and has mounting holes on the rear of the casing. Unlike a lot of soundbars, you don't need an extra bracket in order to wall mount the HomeCinema bar. Instead, you would use the included template. Home Cinema bar includes a template that shows you exactly where to put holes and wall fixings so that you can use to mount the soundbar directly onto your wall.
Will it work with older TVs?
Check your TV has either optical or HDMI ARC connections. If it does, you're good to go. If not, check to see if your TV box does. For example, most Sky boxes will have optical connection that can be used with this sound bar. But its worth checking to make sure you've got either of these connections before taking the plunge.
Find out more
Denon Website – Home Cinema Soundbars
That's all. Thanks for checking out this guide on the Best Prices for the Denon Heos Home Cinema. Did you pick one up? What do you think of it? Let us know in the comments!